Sothern Sri Lanka 3 Days Mini Tour
Spend 3 memorable days with a full-day safari at Yala national park. You will be travelling along the south and west coast while encountering ancient Forts, pristine beaches, wildlife parks teeming with elephants, leopards and bear and picturesque hill country on this 3 days private tour.
Overview
Itinerary
Reviews
Booking
Sothern Sri Lanka Mini Tour -3 Days Private Tour
---
Now Sri Lanka is open for fully vaccinated travellers and you don't need to sit for a PCR test on arrival if you get a negative PCR test result within 72 hours of departure. For more information www.srilanka.travel/helloagain/.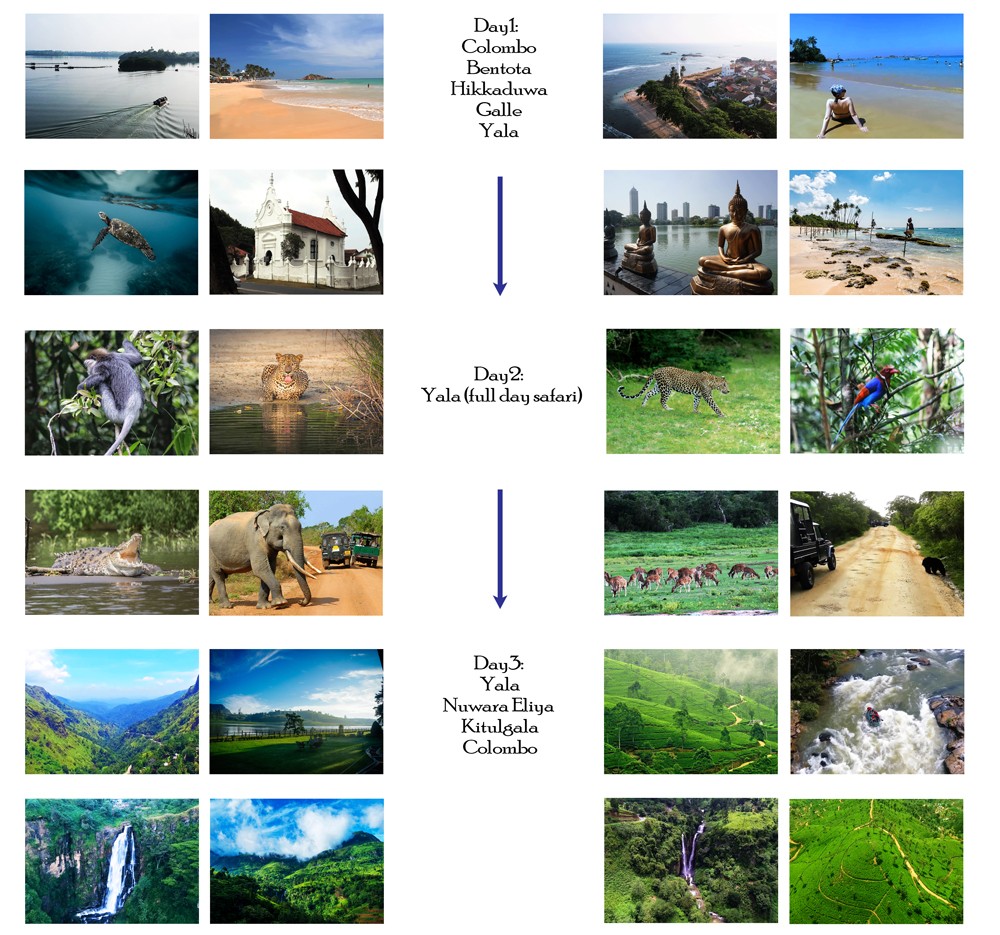 Spend 3 memorable days with a full-day safari at Yala national park. You will be travelling along the south and west coast while encountering ancient Forts, pristine beaches, wildlife parks teeming with elephants, leopards and bear and picturesque hill country on this 3 days private tour.
Trace the famous tourist places on the south coast on this rollicking 3-day tour of Colombo, Galle, Mirissa, Yala and Nuwara Eliya as well as part of Sri Lanka's hill country. Explore the icons and discover local spots in the perfect introduction to the pristine beaches on the south. Begin in throbbing Colombo and explore the spice gardens, museums, forts by walk and drive. Travel to the most famous national park in Sri Lanka, Yala, which is one of the most popular for spotting leopards. Same times encounter the Galle Fort, which is the most popular iconic tourist attraction in the south and also a UNESCO world heritage site.
This 3-days tour offers the perfect introduction for first-time visitors to Sri Lanka. The trip includes round-trip private transport from Bandaranaike International Airport or your hotel in Colombo, Mount Lavinia, Negombo or any other beach resort on the west coast.
---
Start: Colombo, Sri Lanka
Finish: Colombo, Sri Lanka
Group size: Min 1 person
Nature of tour: Private
---
Why you'll love this trip
The trip includes all sightseeing and transfers on private vehicles.
The hassle-free trip includes all necessary components of the trip such as accommodation, meals, transportation, guiding, taxes and seerendipity takes care of all of it.
Trekking through the tea garden / Ceylon tea trail, spice garden.
Guided walking tour of Galle fort to witness ancient constructions.
Safari T Yala national park to see wild creatures such as leopards, crocodile, elephant, deer, bear etc.
Take a break from bustling cities in the hill country resort of Nuwara Eliya, where you can catch your breath and spend the night in the faded opulence of your heritage stay.
This trip is perfect for people who like to get the most on a 3 days trip to Sri Lanka, as long travel days are kept to a minimum on an itinerary that hits several icons of central Sri Lanka.
---
Is this trip right for you?
This compact trip packs a lot in. It's one of the most popular Sri Lanka trips we run in our original style, perfect for those with little time and a desire to do the most with it. If you are after a more leisurely trip or an adventure trip, please browse our tour itinerary page.
In Sri Lanka, it can be extremely hot in the summer. While we organize our walking tours and city tours early in the morning or evening, when it's cooler, remember to keep water on you and to bring a hat, sunscreen, a long-sleeved shirt, and anything else that will protect you from the sun.
Part of travelling with Seerendipity means respecting local cultures and sensibilities. That way you get the most out of your interactions with local people and environments. We visit a number of temples on this trip and to enter them you must have clothes that cover wrists and below the knee. Please click here to know more about the rules and regulations pertaining to Sri Lanka temple visits.
---
Places you visit on this trip
Yala national park (Safari).
Galle Fort (1 hour 30 minutes walk in the garden).
Sri Lanka Tea plantations tour. Read more on the Sri Lanka tea plantation tour.
Spice and herbal gardens and learn about dozens of spices and herbs grown in Sri Lanka.
Madu river estuary (river safari).
Mask Museum.
Hikkaduwa beach.
---
Highlights
Touring Sri Lanka's South and west coast.
Nuwara Eliya sightseeing tour and visiting downtown.
 
Walking through the Spice Garden while learning about herbal trees, plants and spices (this will be an easy walk that lasts about 1 hour).
Walk in the Tea plantations and Royal Botanic Gardens of Peradeniya and many more (The walk in the botanical; garden lasts around 1 hour and you will cover about 2 km).
Visiting a tea factory (Scottish) and see the entire process of tea manufacturing and taste a cup of unblended Ceylon tea.
Wildlife safari of Yala national park in search of leopards, wild elephants, crocodiles, bear, jackal and other wild creatures with local guide and driver.
---
Hotels
The trip can be booked in 3 categories of accommodation depending on your wish, However, the standard tour package is offered with 4-star hotels and if you wish for 3-star or 5-star hotels please inquire.
---
Trip includes
2 nights (3 days) of accommodation in standard hotels
Daily Breakfast at the hotel, 2 breakfasts (starting from day 2)
Daily dinner at the hotel, 2 dinners (starting from day 1)
Nuwara Eliya sightseeing tour
Ceylon tea trail
An Ayurveda spa treatment
Entrance fees for

Guided walking tour of Galle Fort
Madu river safari
Mask museum
Spice garden
Sea turtle conservation project
Tea factory and tea tasting
All-inclusive Yala national park safari (with jeep hire)

Pickup and drop-off at the airport or local hotels
All passengers are fully insured during the sightseeing tours
Meeting arrangement at the airport
Entire ground transportation in an air-conditioned, modern, fuel-efficient private vehicle
Service of an English-speaking driver/guide for the entire tour (please inquire for other languages)
Driver/guide meals and lodging
Highway toll
All current taxes
---
Trip excludes
The expenses of personal nature such as telephone, Internet
Gratuities
---
Optional Activities
You can take part in one of our regular charity works by dedicating a few hours of your day. We arrange charity activities such as distributing food, school items, medicine among the kids and poor people and everything is funded by our company. Please let us know in advance if you wish to attend one of those special occasions so that we can organize it near your hotel.
---
Book now & pay later
Reserve your tour now and pay later. Send us the duly filled tour booking form, we will arrange your tour and you can make the payment as you meet us on the first day of the trip.
---
Best price guaranteed
We guarantee the best price. If you find the same tour package at a cheaper price elsewhere, we do match the price of other tour packages and furthermore add a 10% discount to it.
---
No hidden fees and commissions
The price you see on this page is the exact same price that you see in the final stage of the trip booking. There are no hidden fees and taxes such as GST, BTT, service charge, nation-building tax, hotel tax etc.
---
Additional information
The trip can be booked with a single room for the entire trip with a single supplement (please inquire with your chosen category of the hotel)
Confirmation will be received at the time of booking
A current valid passport is required on the day of travel
Child rate applies only when sharing with 2 paying adults
Children must be accompanied by an adult
The duration of transfers are approximate, the exact duration will depend on the time of day and traffic conditions
Not wheelchair accessible
Infant seats, available
Travellers should have a moderate physical fitness level
This is a private tour/activity.
You can reach us 24 hours a day through our hotline 0094-77-4440977
---
COVID-19 special information
We assist you to take a tourist visa to Sri Lanka, however, you have to apply online through https://www.eta.gov.lk/.
All customer touchpoints are frequently cleaned
Social distancing is maintained in vehicles
To reduce crowds, all tours are private
Masks are required, please bring your own
You must fill out a travel information form
Temperature checks are mandatory
You must book this activity online, as the ticket office is closed
Itineraries
DAY 1
Time : 7:00 am
COLOMBO / GALLE / MIRISSA
Meet and greet by Seerendipity representative and leave for hotel in Yala, en-route visit Galle fort, Spice and herbal garden, Bentota beach, Madu river estuary, Hikkaduwa beach and Unawatuna beach.
GALLE
The ancient port city of Galle has a history that stretches back hundreds of years. According to Sir James tenant, Galle was the "Tarshish" referred to in the Bible as the port where ships trading with King Solomon obtained gemstones, ivory, spices and scented woods. Most certainly the place where the Galle fort now stands, as well as other areas in Galle all had historic connections which go back long before the Portuguese era. International traders, Persians, moor traders from the Persian Gulf, south Indian trader, Malay and a host of other nationalities lived and traded In Galle.
SEA TURTLE HATCHERY (30 min)
Projects have been launched to conserve the population of turtles that are reaching extinction and such projects are found along the southern coast of Sri Lanka where turtles come ashore to lay their eggs. The turtle digs a hole on the Beach, Lays her eggs and covers it with sand where it is supposed to, incubated by the heat of the sun.
RIVER SAFARI -MADU ESTUARY (2 hours)
A cruise on a modern motorboat is the best way to exploring the natural wealth of Madu Ganga, the islands in the wetland are largely inaccessible by road. The inhabitants are also using the boats and more often paddle boats as the means of transport. Seerendipity tours offer particularly appealing boat trips around Madu Ganga. This Ramsar Wetland is one of the most visited natural attractions of Sri Lanka's west coast, with riverscapes to quiet thick grown islands and mangrove forests with sites of immense natural interest. There is plenty of opportunities to spot fascinating wildlife based on aquatic environment, throughout the tour.
HIKKADUWA MARINE SANCTUARY
Hikkaduwa National Park is one of the two marine national parks in Sri Lanka. The national park contains a fringing coral reef with a high degree of biodiversity. The area was declared a wildlife sanctuary on May 18, 1979, and then on August 14, 1988, upgraded to a nature reserve with the extended land area.
Accommodation
Yala (Hibiscus garden hotel)
Meals Included
Breakfast and dinner
DAY 2
Time : 5:00 am
YALA
Early morning leave for a full day Yala safari.
YALA NATIONAL PARK
Yala is considered to be one of the oldest national parks in Sri Lanka same time it is the biggest national park in Sri Lanka with 97880 hectares extent. Initially it was used as hunting ground during the British rule in Sri Lanka. It is said people had to pay for the hunting in Yala. As the number of animal drastically reduced due to hunting, Yala is declared as a national park in 1900 and became a safe place for animals. Yala being the biggest national park is divided to 5 zones. Yala is holding a prominent place as far as bio-diversity is concern. Yala is famous high density of wild life such as Leopards, Elephants, Deer, Wild boar, Bear, monkey's etc.
Yala is considered to be one of the best places to witness leopards in the world. There were 17 ½ leopards in every 100 square kilometers in Yala national park. Block 1 of Yala National park could be home to the densest population of leopards in the world, the densities in this tiny area has maintained around a leopard every 2 sq. kilometers. Unlike most other national parks where leopards can be seen in dark Sri Lanka leopards are in move during the day as well.
Accommodation
Yala (Hibiscus garden hotel)
Meals Included
Breakfast and dinner
DAY 3
Time : 7:00 am
YALA / NUWARA ELIYA / COLOMBO
After the breakfast leave for Colombo via Sri Lanka's hill country, en-route visit waterfalls, tea garden, tea factory, Sita temple. The tour also includes a optional whitewater rafting in Kitulgala.
TEA FACTORY
Visit a Tea factory and Plantation will be a real highlight of the day, here you can witness the whole process of tea production in Sri Lanka.
NUWARA ELIYA
The Hill country of Sri Lanka is a sight to behold. After the heat of the low lands of Sri Lanka, the diversity of temperature and scenery of the high lands is incredible.
Kandy, Nuwara Eliya and Bandarawela, are three popular hill stations of Sri Lanka. Nuwara Eliya being the highest, situated over 6000 feet above sea level is also called "Little England". As this is where the British built themselves a home away from home.
The winding road that leads to the hill country through tea plantations that carpet the hills to extents beyond sight, the water falls that meander cascading down the hills, the misty valleys and scenery are certainly awe-inspiring.
SITA AMMAN KOVIL
The place, where Sita stayed in India was similar to Nuwara Eliya with a cool climate and beautiful surroundings. Therefore king Ravana took her to Nuwara Eliya, where she was permitted to go about freely. The place she stayed came to be known as Seethaeliya. A beautiful Hindu temple was built at a later period where Queen Seetha was held. Earlier the temple was known as "Seetha" kovil and it is called "Seedai Amman" at present. The Hindus make vows at the temple since they believe that there is a miraculous power in it.
End of the tour
Pricing Name

Start

End

Group (Min-Max)

Pricing